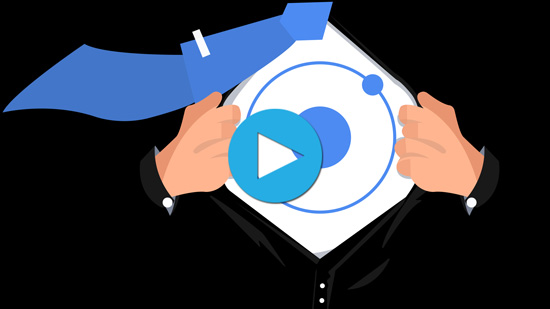 Ionic 1
Future Proof Yourself. Turn your existing web development knowledge into mobile development super powers with Ionic
Start Now!
Description
Support for firebase v3 added
Support for open source parse server.

Resources added in again to the Angular Review section.

Android Marshmallow Update

Various other changes including updates to the Windows setup instructions
Updates and fixes to the TV Chat App, Mealtracker App & TED RSS Reader App.

Workaround for the iOS9 Breaking Changes

New Lectures on Chrome Developer Tools and IDE
---
Gartner predict that by 2016 50% of all mobile applications will be hybrid apps built using technology like Ionic.
Ionic is a powerful HTML5 SDK that helps you build native-feeling iOS and Android apps using web technologies like HTML, CSS, and Javascript. It's based on Cordova and AngularJS.
This course is for existing web developers, your level of HTML, CSS and JS doesn't matter but you must have some since we won't be covering those topics on this course.
You DO NOT need to know AngularJS.
We will cover the essential AngularJS topics needed to build Ionic applications in the AngularJS Review section (If you already know AngularJS feel free to skip it)
Through a series of 7 real-world examples you will learn the skills needed to build fully functional, cross platform iOS and Android mobile applications in Ionic.
Implement both Tabbed and Side Menu navigation.

Interact with the phones Camera, GPS & play sounds.

Embed Google Maps with markers, popup info windows.

Login with Facebook and add real-time chat functionality with Firebase.

Implement list controls, with re-order, delete, pull to refresh and infinite scroll functionality.
With the rapid expansion of Javascript into nearly every area of application development. Web Developers are now the most versatile developers in the market, enjoying long-term job stability, growth, and diversity of work.
Thanks to Ionic, you now can design, build, and deploy robust mobile apps faster than you could with native technologies, all while incurring little to no app performance penalties and sticking to the web technologies you already love working with, namely css, html and javascript.
Imagine if you were the CTO of a small tech company, who would you rather hire?
A versatile web/mobile superstack developer
In the morning they can fix a bug with the front end of the website.

In the afternoon they get their hands dirty adding a new feature to the node server side application.

And then in the evening they work on the companies new mobile application which is launching on iOS and Android in 2 weeks time.
A unicorn native app developer, who can only work on iOS or Android.
Do I even need to say it?
With Ionic the dream of using web technology to build mobile apps is finally here. It isn't a second-class option, it's the future of mobile app development.
Reviews

Özgün Zor
Ionic 1
It is really wonderful course that even if get into deeper and deeper Asim's examples and explanitions will be more clear instead of getting more complex. I really liked this course and recommend everyone.

Joey Waddell
Ionic 1
Very straight forward. Doesn't leave you guessing which steps to take when creating an application.

Scott Jordan
Ionic 1
Excellent course. Very in-depth while also being accessible. Instructor was clear and knowledgeable. Presentation was smooth and professional. Good audio/video quality.

Cristian-Adrian Frasineanu
Ionic 1
Simple, concise, above average hands-on experience. Asim is a very talented teacher and it's visible how much work has put in his lectures. He goes right up to the point where you can grasp Ionic and don't get confused with too much information. The course outline is very clear, I could see where I start learning and seeing Ionic in action, and where AngularJS is reviewed is explained beforehand, not a mix between them. Really eager to get more progress with this!